When you click a program on the Dashboard, the program's Summary page is displayed. It helps you to keep track of the submissions you are assigned, following, or engaged in on the program. The dashboard comprises three main areas: the submissions' status, recent activity stream, and assigned submissions stream.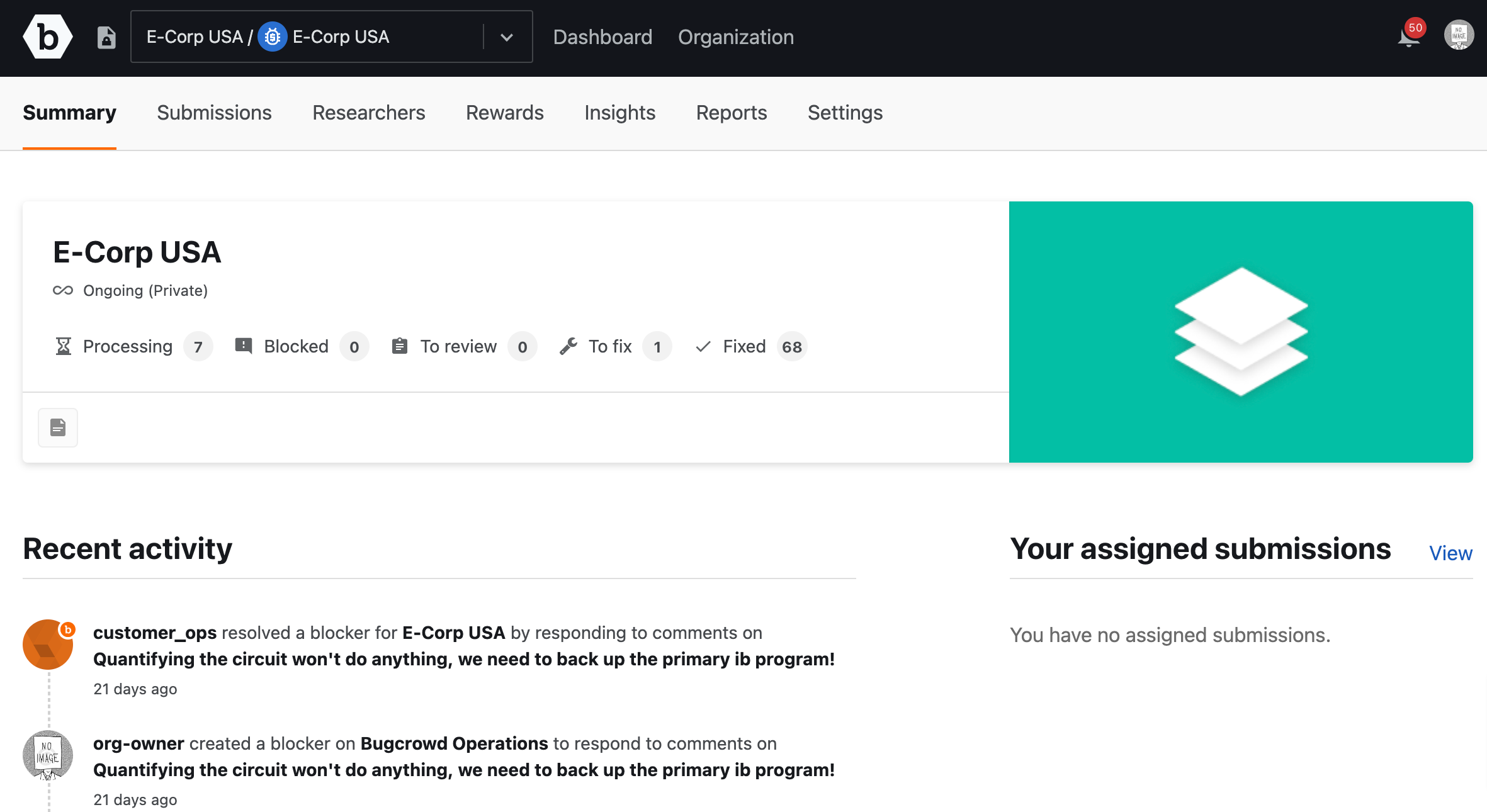 Viewing Submissions in Processing, To Review, To Fix, and Fixed Stages
The Summary page displays a snapshot of the submissions in the bounty program. At a high-level, you can quickly monitor the workflow stages of all submissions based on the next actionable step that is required. For example, a submission in the Processing stage is a NEW submission that is waiting to be triaged and validated by a Bugcrowd Application Security Engineer.
| Stage | Status | Details |
| --- | --- | --- |
| Processing | New | These are new, incoming submissions that are waiting to be triaged and validated by a Bugcrowd application security engineer. |
| Blocked | Blocked | These submissions have been blocked by customer. |
| To Review | Triaged | These submission have been triaged and validated by a Bugcrowd application security engineer and are awaiting review and validation by the customer's security team. |
| To Fix | Unresolved | These submission have been accepted by the customer as a vulnerability that needs to be fixed. At this time the customers development team has been tasked to fix the issue but it is yet to be patched. |
| Fixed | Resolved | These submissions have been fixed by the customer and marked as a resolved submission in Crowdcontrol. |
To view the submission status inbox for a particular status, click on one of the stages.
Viewing the Recent Activity Stream
The Recent Activity stream lets you stay up to date on the most recent activity in the program, such as comments that have been added to a submission, submission statuses that have been changed, and rewards that have been given out.
To help you identify researchers in the activity feed, rewards, and submission comments, Bugcrowd will automatically generate and assign researchers who have not uploaded a profile photo a unique avatar. This allows you to quickly track and differentiate between certain users.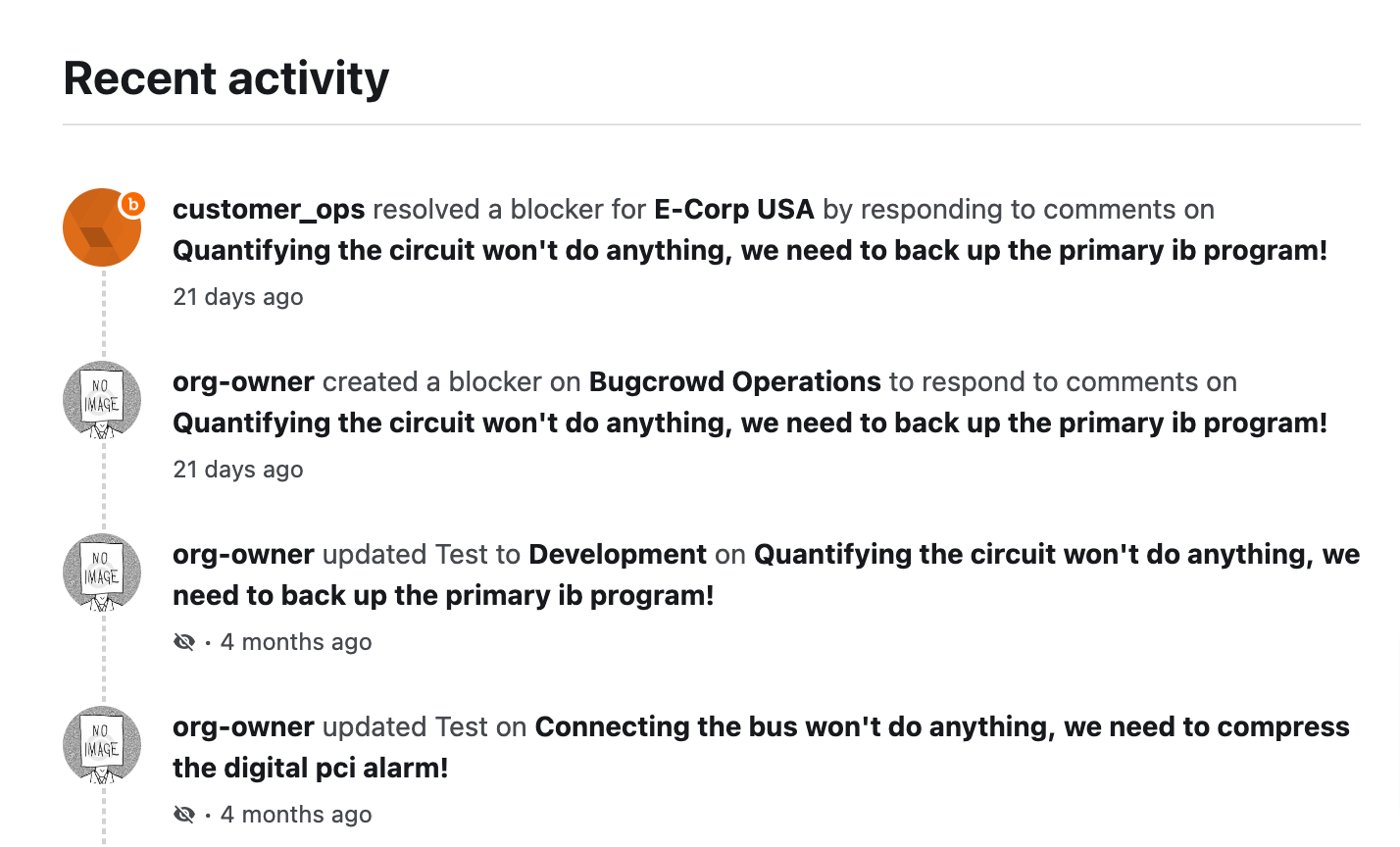 Viewing Assigned Submissions
The assigned submissions section lets you quickly view and navigate to the submissions that you are currently assigned.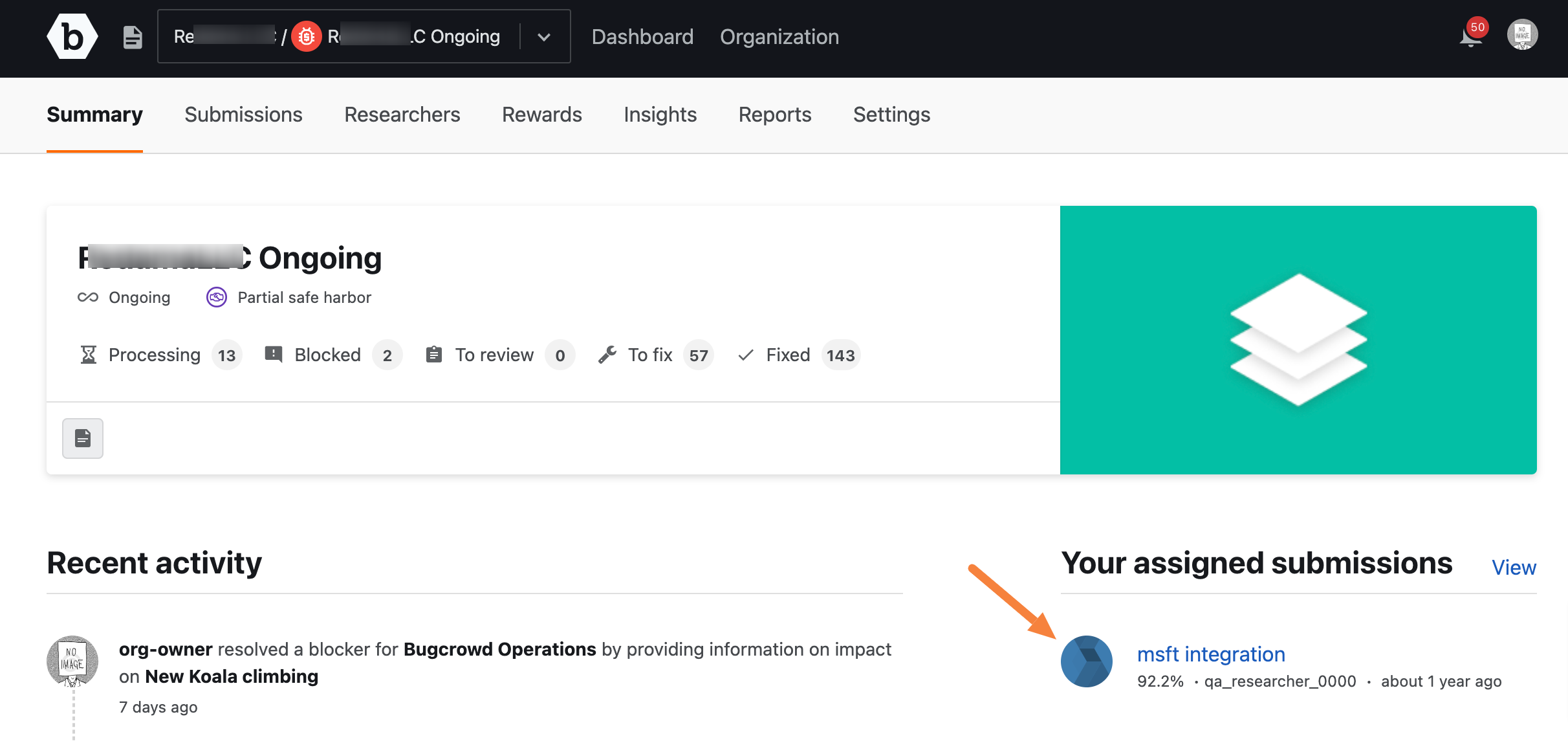 Viewing Methodology Status, Reported Vulnerabilities, and Testing Summary for CPT Programs
In the case of Classic Pen Test (CPT) programs, three additional sections are displayed on the Summary page:
Methodology Status: Displays the stage of the engagement. Engagement stages are:

Draft
Launching
Launch paused
In progress
In progress-paused
Finalizing
Completed
Canceling
Canceled

The following example screenshot shows the Draft, Launching, In progress, Finalising, and Completed stages for a program. After launching the program, if it is paused, then the Launch paused stage will be displayed. Similarly, if a program that is in-progress is paused, then it displays the In progress-paused stage. If the program is cancelled, then initially it displays Canceling stage and after the canceling process completed (up to 3 days), it changes to Canceled stage.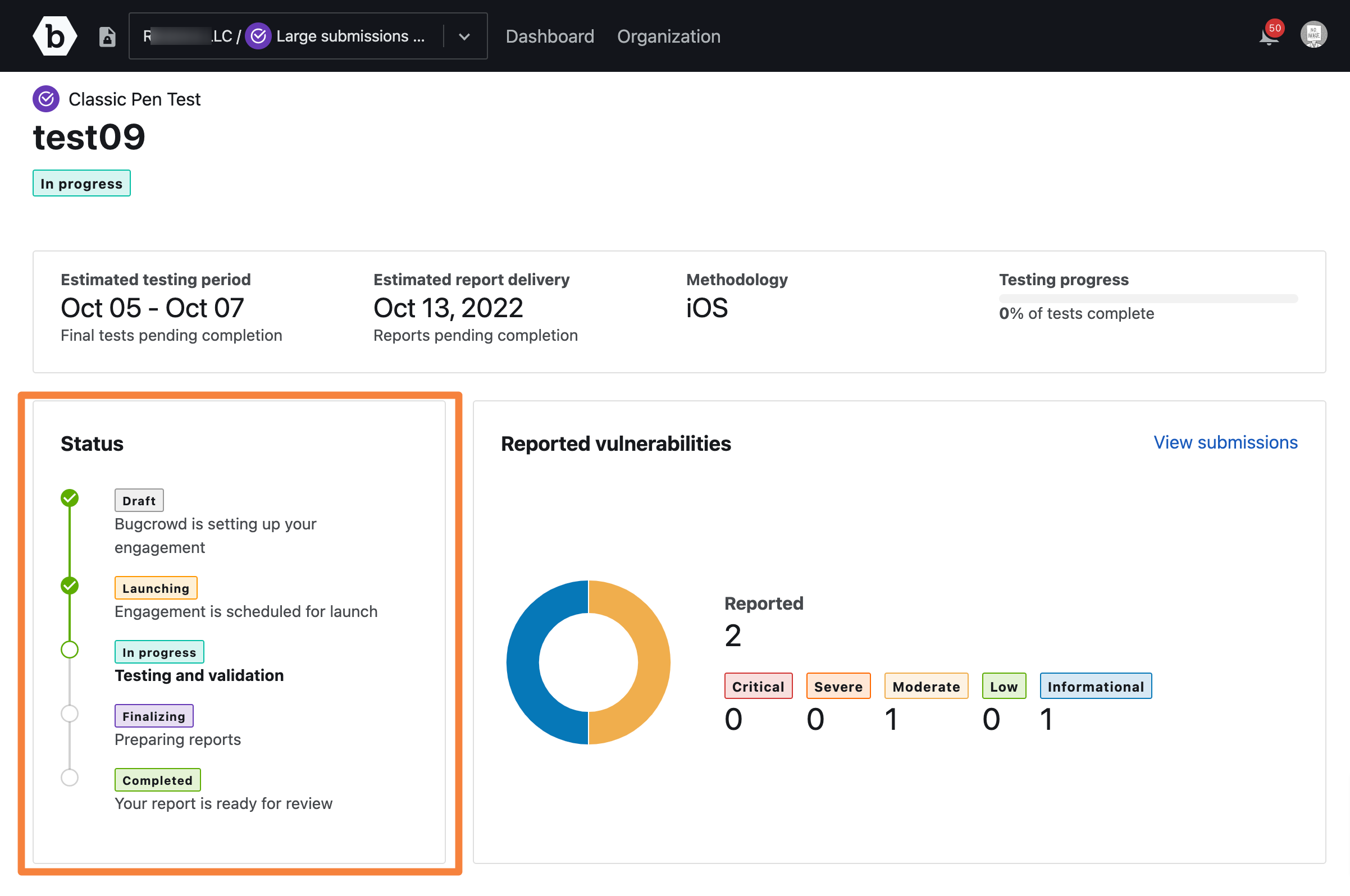 Reported Vulnerabilities: Provides a breakdown of findings by severity.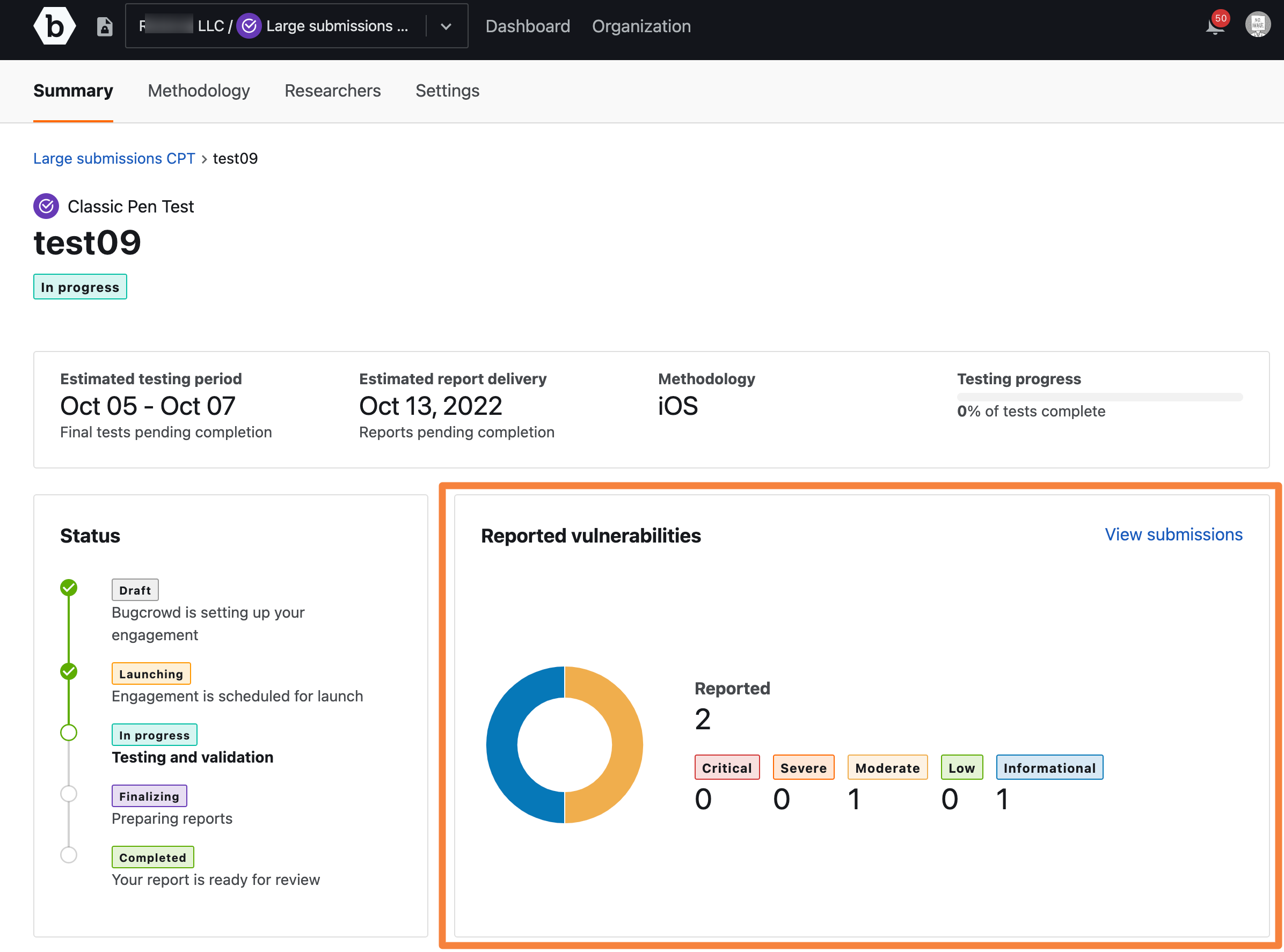 Testing Summary: Provides information about the testing period, estimated report delivery date, testing methodology, and the testing progress.