Known issues may be imported into Crowdcontrol using a CSV file and the proper formatting. These submissions can only be uploaded by a Organization Owners or Program Administrators.
For a more automatic means of importing issues, see our API's ability to create submissions.
Be sure that all the information is correct before importing: Once a submission is uploaded, edits may only be made to the 'submission title' or internal bug type in the Crowdcontrol UI. All other edits will be handled by Bugcrowd engineering. This includes a mistake with a researcher's email. If this happens submit a support ticket through the Bugcrowd Support Portal immediately.
To import any known issues, go to Settings > Import Issues.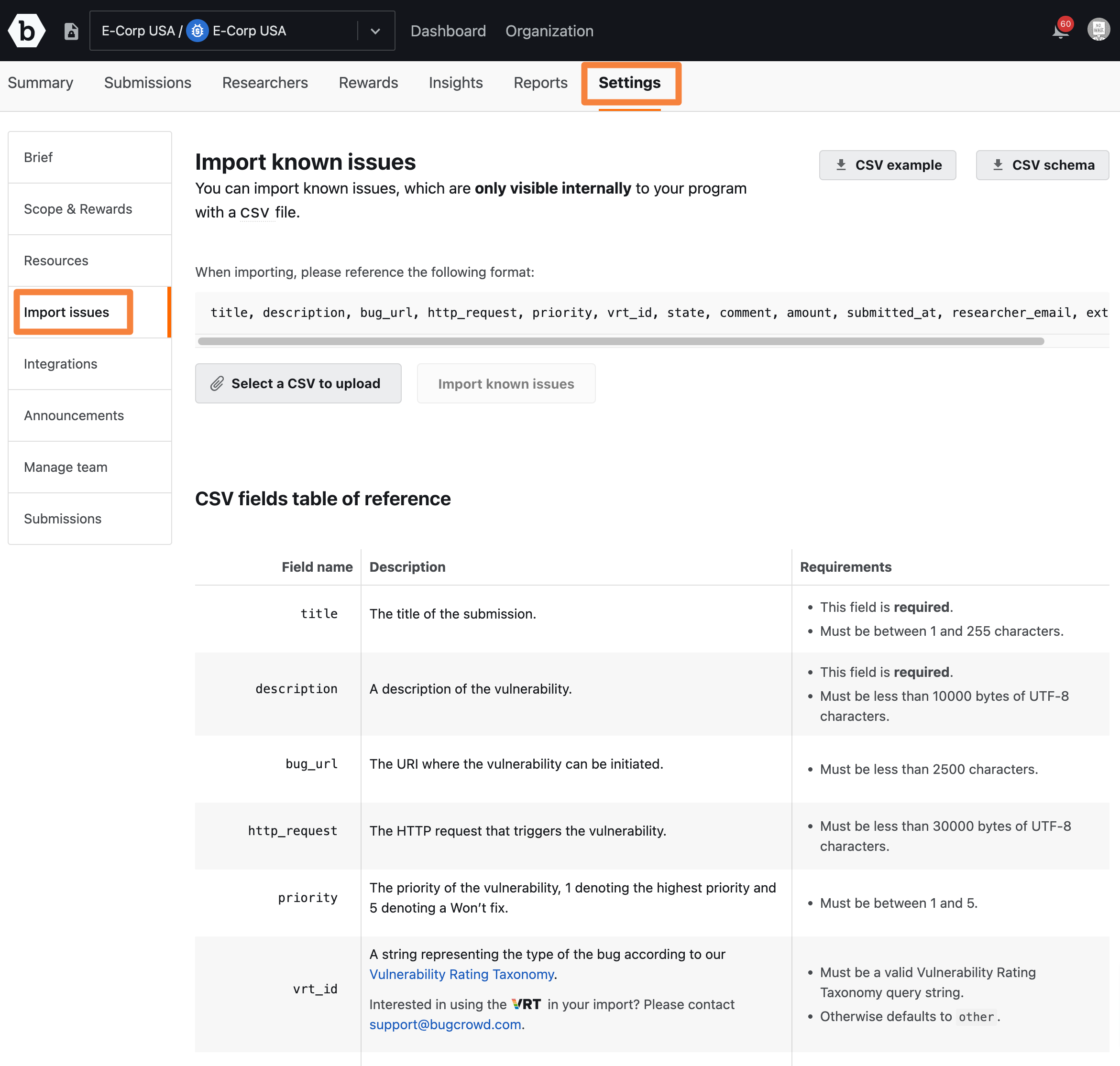 This Import Issues page identifies the proper formatting and required fields to use when importing your CSV file. If errors within the format are found upon uploading, the CSV will list the errors to be fixed.
Once the known issues have been properly formatted in a CSV file, click the Import Known Issues button at the bottom of the page and select your saved CSV file to upload your submissions.
Additional Formatting Help: Downloads an example CSV document by clicking the Download Example CSV button so one can investigate the scheme. Download a JSON file with the schema to validate your CSV file by clicking Download CSV Schema.
Once successfully uploaded, an email with a report will be sent to the user who initiated the import. This report will include links to all submissions that successfully imported along with error messages, if there were any errors in processing.
If there are any researcher emails specified, a notification will be sent to them via email, so that they can claim their submissions through Crowdcontrol.