Badges indicate levels of accomplishment each researcher has achieved on the Bugcrowd platform. These badges will be displayed on your public and private profile. Each badge type has a set of levels which researchers can progress through, climbing up that badge's leaderboard over time.
The badges are grouped into the following badge sets:
P1 Warrior: Awarded for valid P1 submissions on any program, since January 1, 2019
Bounty Bee: Awarded for each program with at least one valid submission.
Collaboration Crusader: Awarded for the number of unique collaboration groups with accepted submissions.
Submission Shogun: Awarded for the total number of valid submissions across all programs.
The Bounty Bee, Collaboration Crusader, and Submission Shogun badge levels reflects All-Time stats.
In case of collaboration:
Consider the example: Researcher A has a submission with researcher B. This counts as one unique group. You will earn another point for bringing in a third researcher on a separate submission with up to 5 collaborators available.
Submission Shogun and P1 Warrior will receive a percentage of the submission based on the percentage defined by the primary researcher for each collaboration. For example, if the submission is split 50/50, each researcher receives 0.5 of a submission.
Bounty Bee and Collaboration Crusader will receive the bounty or collaboration percentage only if the researcher has a 20% or greater share of the collaboration.
Viewing Badges
You can view your badges in the Achievements section in your profile. The Leaderboard rank section indicates your performance among your friends and peers by displaying your current position within that badge type.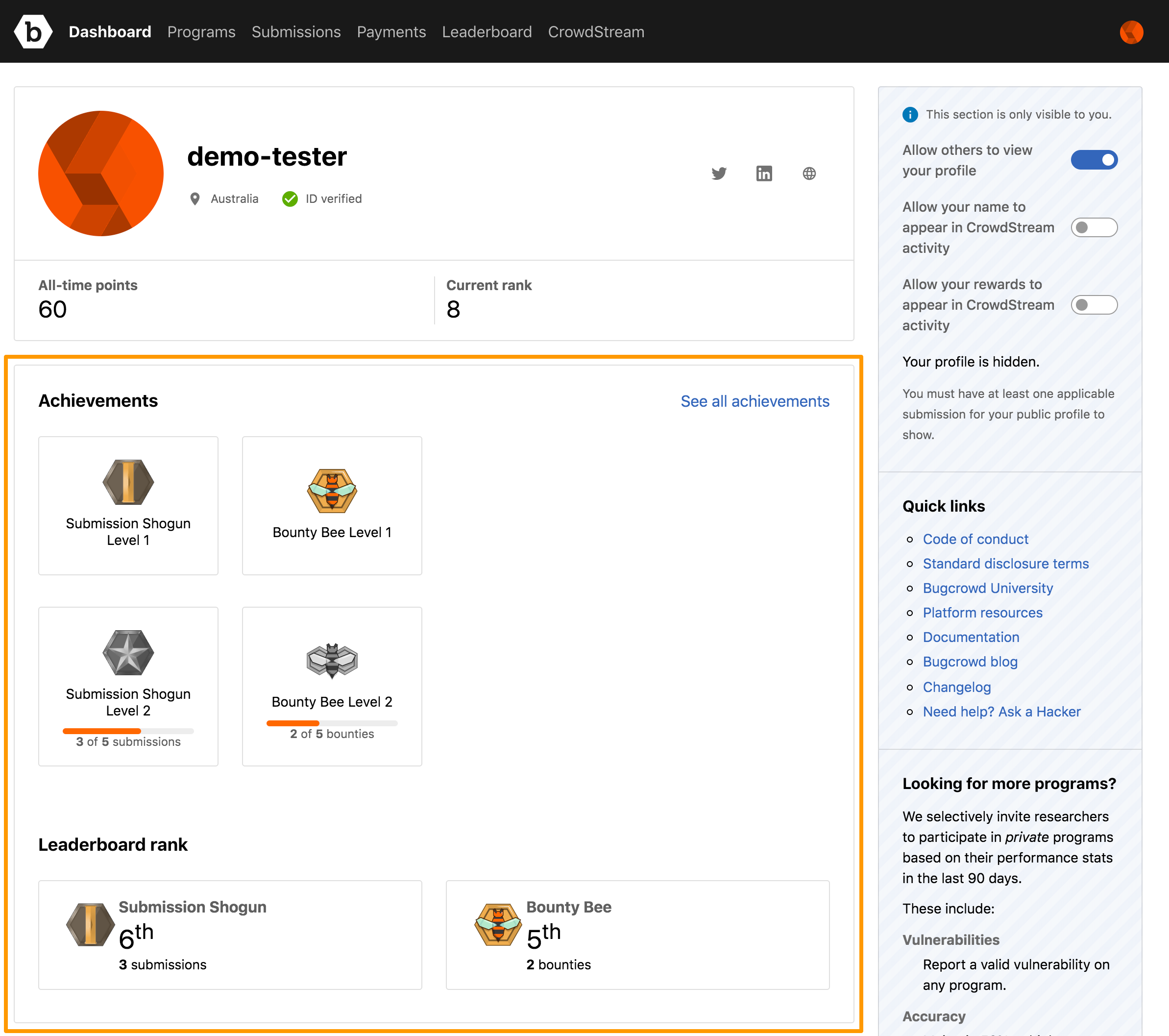 Click See all achievements.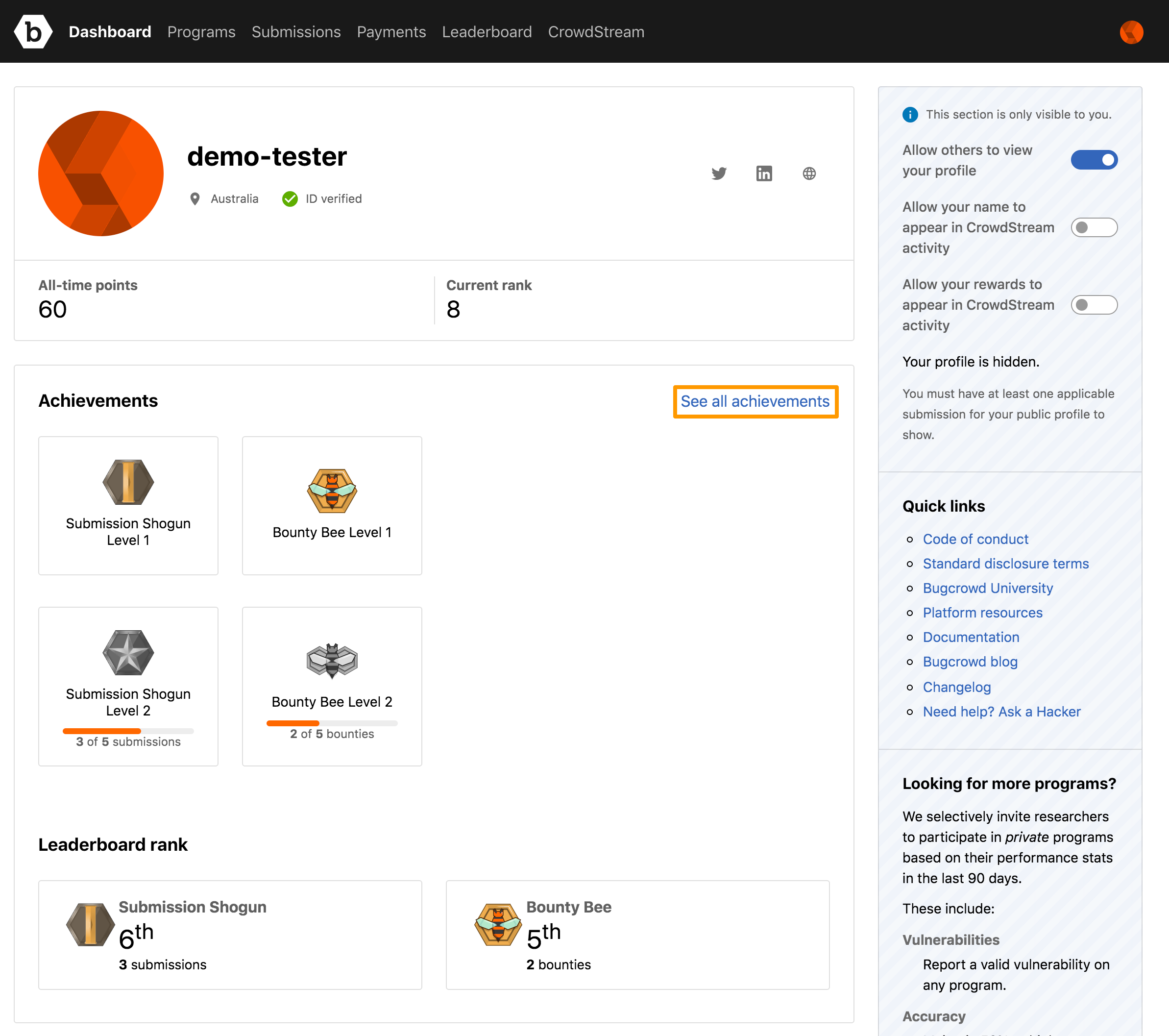 The following are displayed:
Unlocked badges: Displays the badges you have already achieved.
In-progress badges: Displays the badges that you can achieve if you meet a few more criteria.
Locked badges: Displays the badges you have not achieved.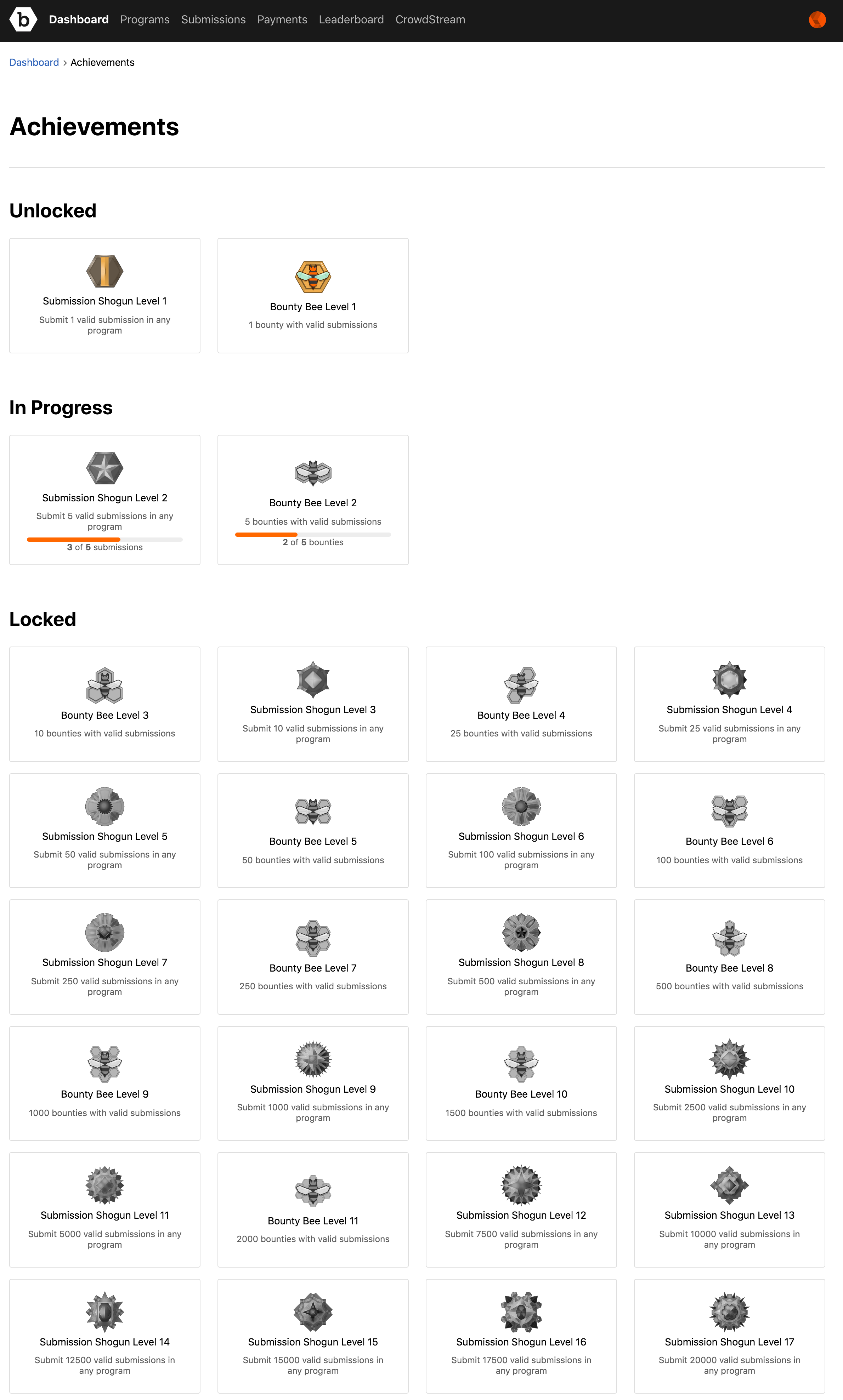 In the Leaderboard rank section, click on any rank.
The Leaderboard page displays the top 25 ranking researchers for a badge set. For example, if you have clicked Bounty Bee rank (in Leaderboard rank section) in the preceding screen, then the Leaderboard page provides description of Bounty Bee at the top of the page and the top 25 ranking researchers in the Bounty Bee badge set.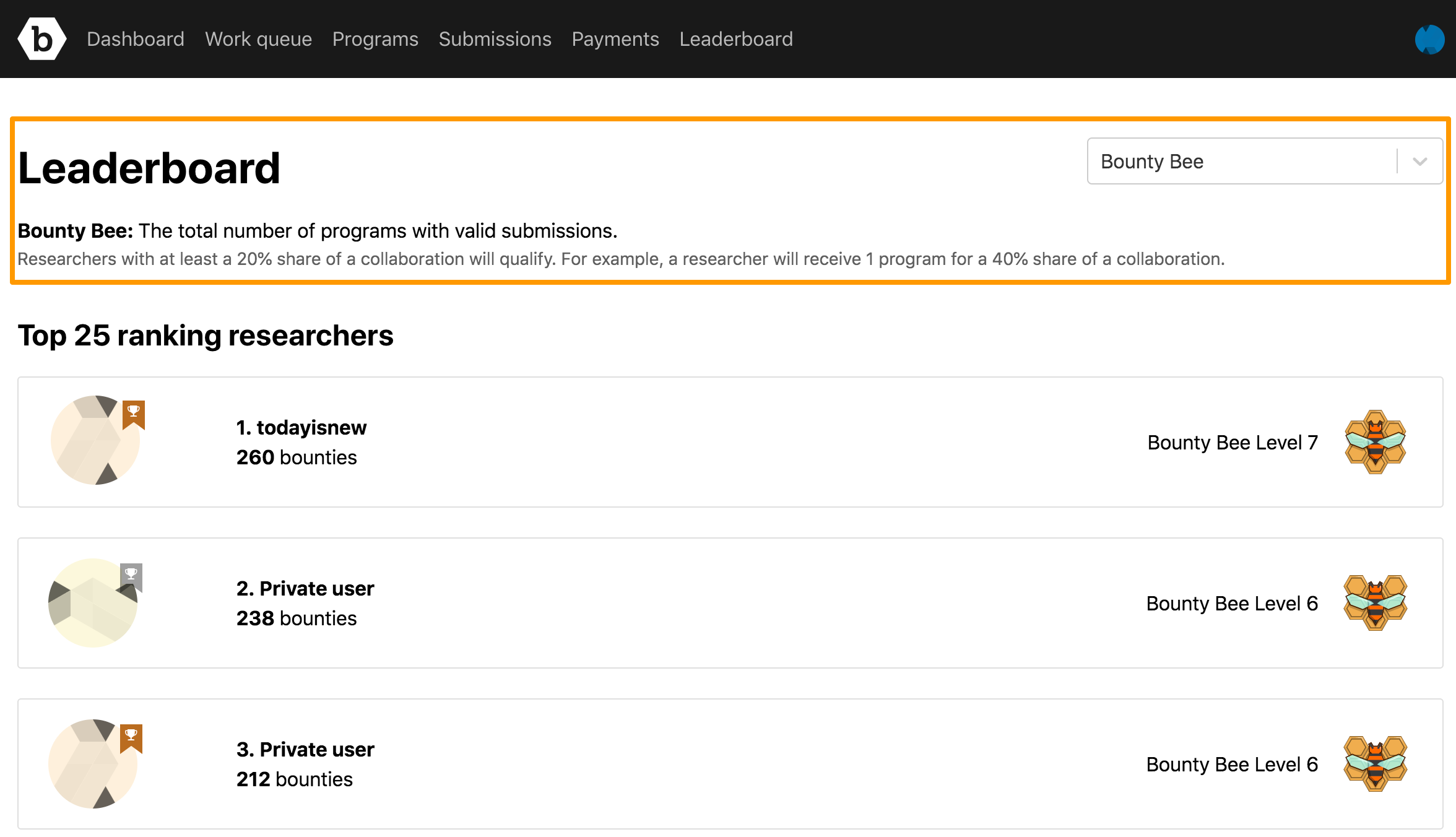 You can also select a badge set from the drop-down menu and view the top 25 ranking researchers for that badge set.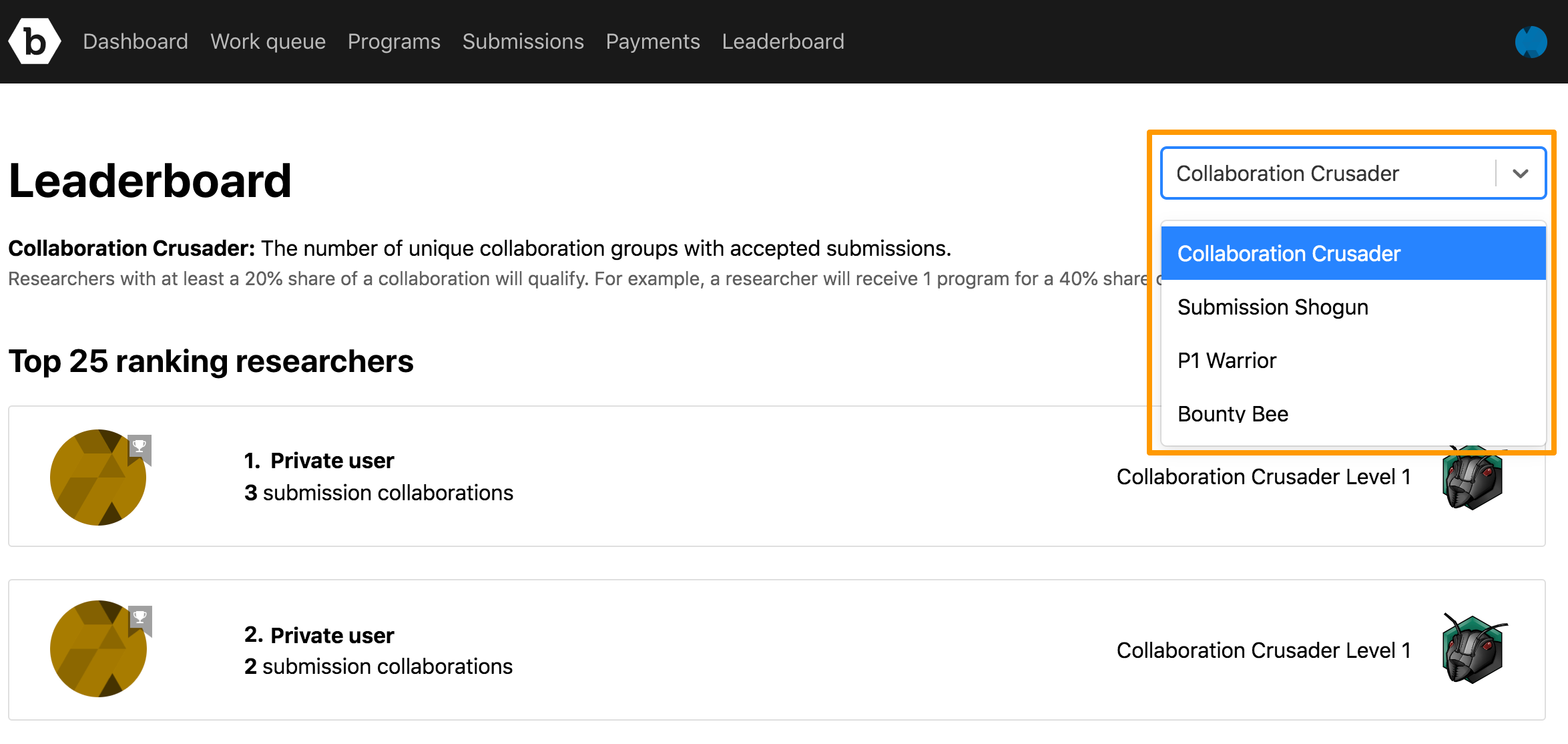 Badge Sets, Criteria, and Levels
The following table provides the type of badge set, the criteria that must be met to achieve that badge and the associated levels based on the number of submissions.
Badge Set
Criteria
Level
P1 Warrior
Valid P1 submissions with status unresolved, resolved, and informational. Submissions that use collaboration are eligible for this badge type.
Level 1 = 1 P1 Submission
Level 2 = 5 P1 Submissions
Level 3 = 10 P1 Submissions
Level 4 = 25 P1 Submissions
Level 5 = 50 P1 Submissions
Level 6 = 100 P1 Submissions
Level 7 = 150 P1 Submissions
Level 8 = 250 P1 Submissions
*Level 9 = 500 P1 Submissions
Bounty Bee
Bounties with valid submissions with status unresolved, resolved, and informational. Submissions that use collaboration are eligible for this badge type.
Level 1 = 1 Bounty
Level 2 = 5 Bounties
Level 3 = 10 Bounties
Level 4 = 25 Bounties
Level 5 = 50 Bounties
Level 6 = 100 Bounties
Level 7 = 250 Bounties
Level 8 = 500 Bounties
Level 9 = 1000 Bounties
Level 10 = 1500 Bounties
*Level 11 = 2000 Bounties
Submission Shogun
Valid submissions with status unresolved, resolved, and informational. Submissions that use collaboration are eligible for this badge type.
Level 1 = 1 Submissions
Level 2 = 5 Submissions
Level 3 = 10 Submissions
Level 4 = 25 Submissions
Level 5 = 50 Submissions
Level 6 = 100 Submissions
Level 7 = 250 Submissions
Level 8 = 500 Submissions
Level 9 = 1000 Submissions
Level 10 = 2500 Submissions
Level 11 = 5000 Submissions
Level 12 = 7500 Submissions
Level 13 = 10000 Submissions
Level 14 = 12500 Submissions
Level 15 = 15000 Submissions
Level 16 = 17500 Submissions
*Level 17 = 20000 Submissions
Collaboration Crusader
Unique collaborating groups are submissions with one or more collaborators. You only get Unique Collaboration Group points per group and not based on the number of submissions. Valid submissions with status unresolved, resolved, and informational.
Level 1 = 1 unique submission collaboration (unique collaborating group)
Level 2 = 5 unique submission collaborations
Level 3 = 10 unique submission collaborations
Level 4 = 25 unique submission collaborations
Level 5 = 50 unique submission collaborations
Level 6 = 100 unique submission collaborations