Private Program Invitations
Some programs are invitation only. This means that the company wants or needs to restrict access to their program for a subset of researchers. Generally, invitation-only bounty programs work the same as public programs. The major difference is that they are private and you have to be invited to participate in the program. Usually, private programs grow over a period of time, add new scope, increase rewards, and remove restrictions to enable a larger number of researchers to participate. If you are selected to participate in a private program at launch, Bugcrowd will send an invitation roughly 48 hours prior to the start of the program (due to a few circumstances this may not be possible always). When a program is able to increase the number of participants and you are selected to participate, you will be able to begin testing immediately on the ongoing program.
Getting Invited
Bugcrowd selectively invites researchers to private programs based on the skill set required (determined based on the program) and the activity (based on your historical statistics). Also, customers can now send you a direct email invitation to participate in a private ongoing program. You will receive the email only if your email address is available in the Crowdcontrol platform.
Current Qualifications:
Four submissions submitted to the Bugcrowd platform all-time
One accepted P1-P3 submission to the Bugcrowd platform all-time (non-duplicate unresolved or resolved)
Greater than 50% accuracy in the last 90-days
One valid P1–P3 in the last 90 days
Required Qualifications are subject to change.
Viewing Invitations
You can view an invitation from the email that you have received from Bugcrowd or by logging in to Bugcrowd.
Viewing Invitation From Email
In the email, you have received from Bugcrowd, click View Invitation.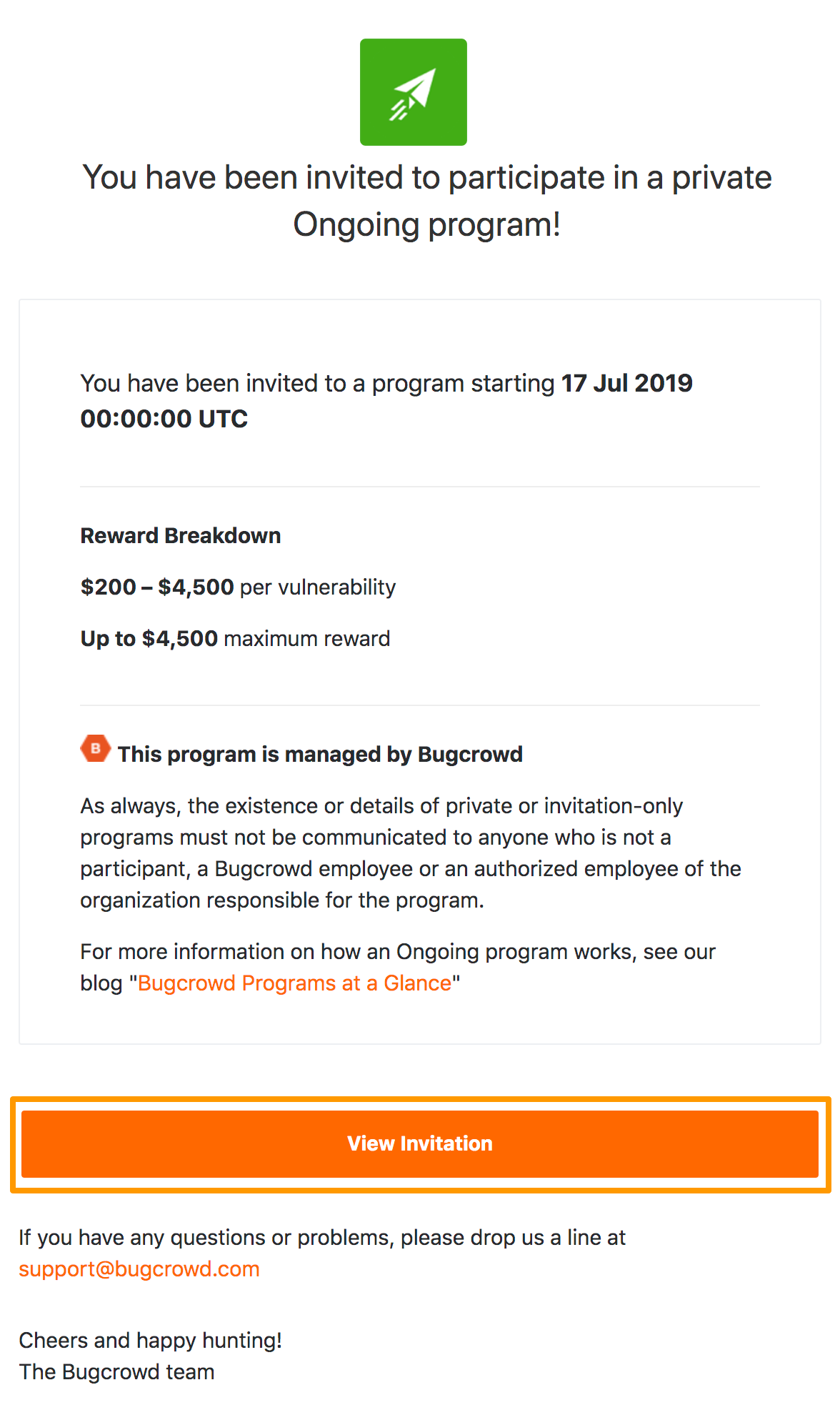 To view invitations, go to the Programs tab.

All the invitations are displayed as shown.
Viewing Invitation in Bugcrowd
Log in to Bugcrowd, click your profile icon, and then click Invites.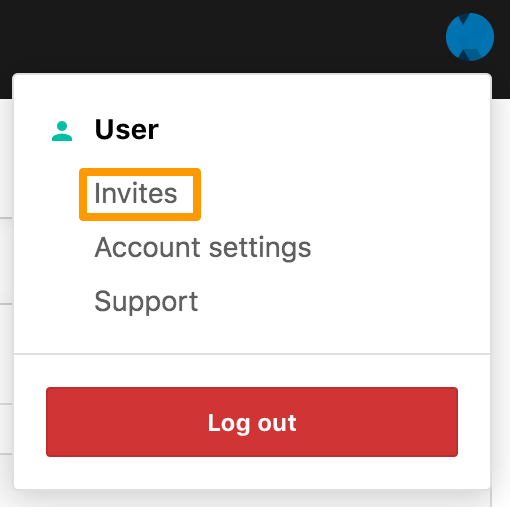 The Programs tab displays the Pending Invitations. These are the programs you have been invited to and you have not accepted the invitation.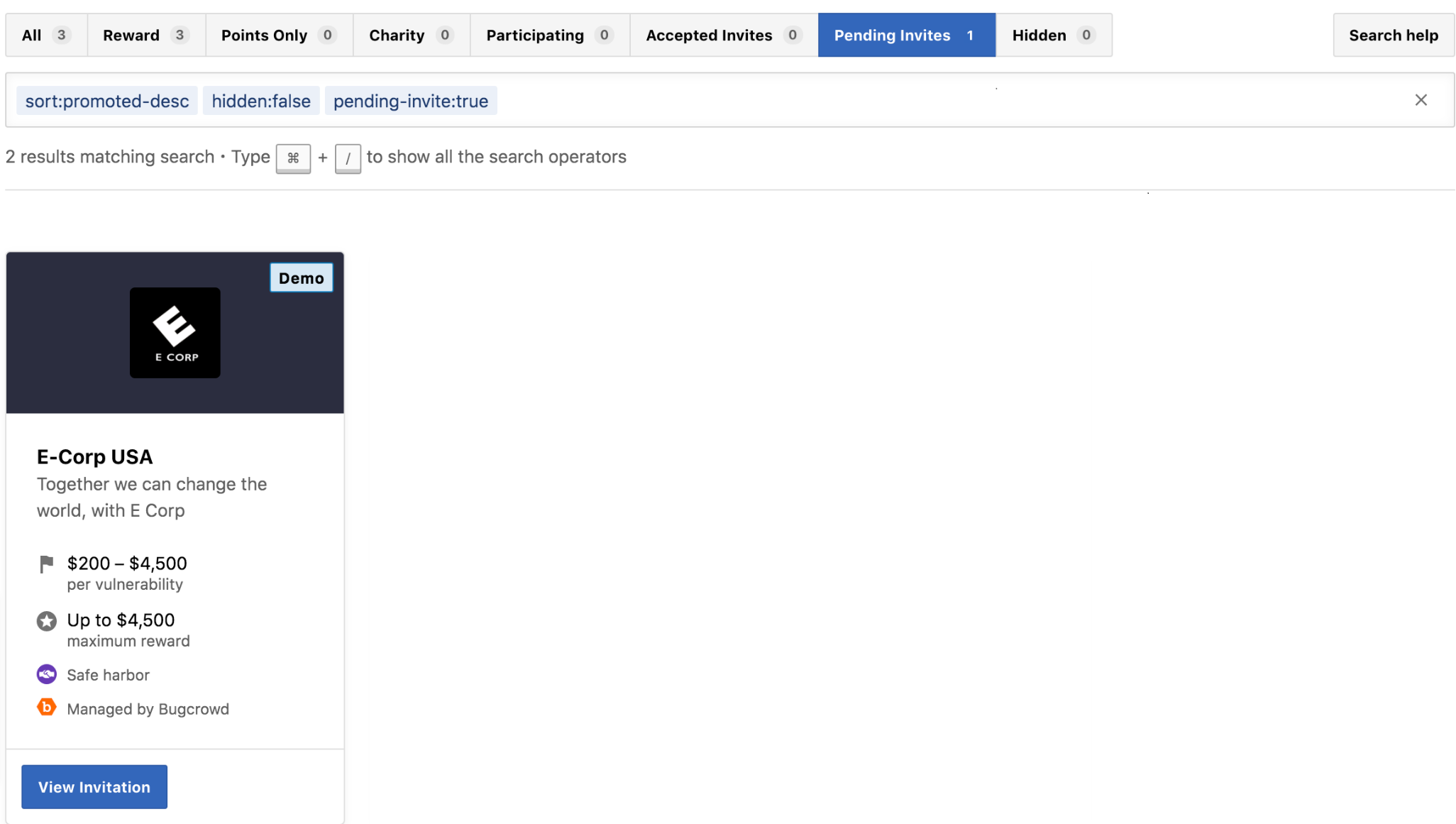 You can also view the invitation on the Dashboard > Tasks tab as shown.

Accepting an Invitation
In the Programs tab, click View Invitation.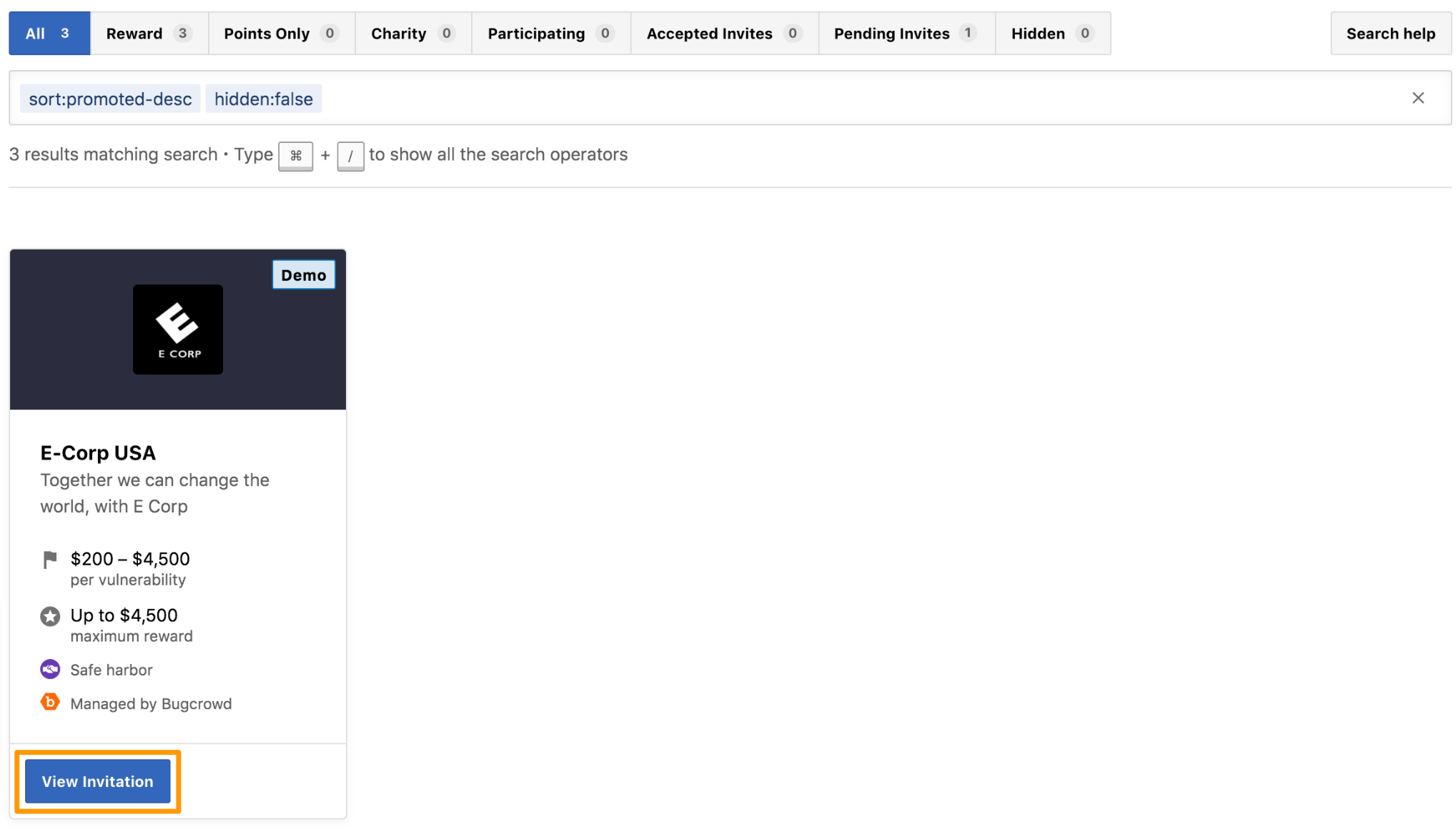 The Disclosure policy pop-up message is displayed.
Click Accept terms.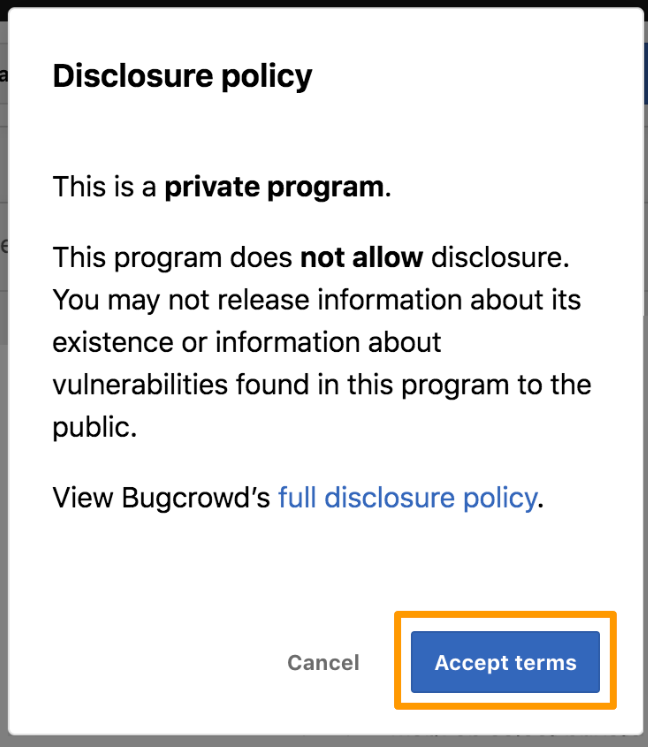 The following screen is displayed.
Information such as Reward Range, Targets, Program Rules, and the assigned credentials are displayed. Read all this information before accepting the invite.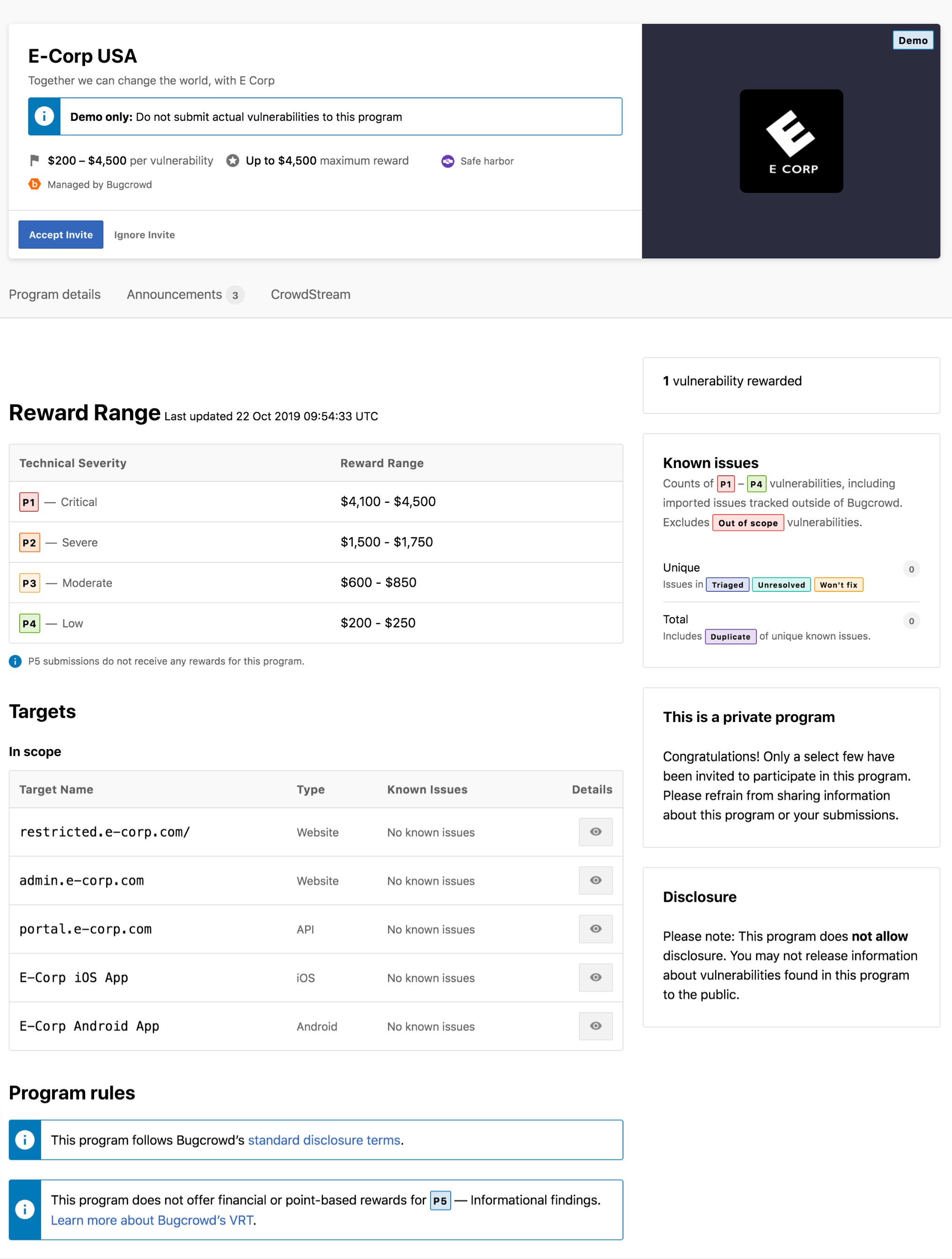 When you click Accept Invite, the Program is available in the Accepted Invites tab.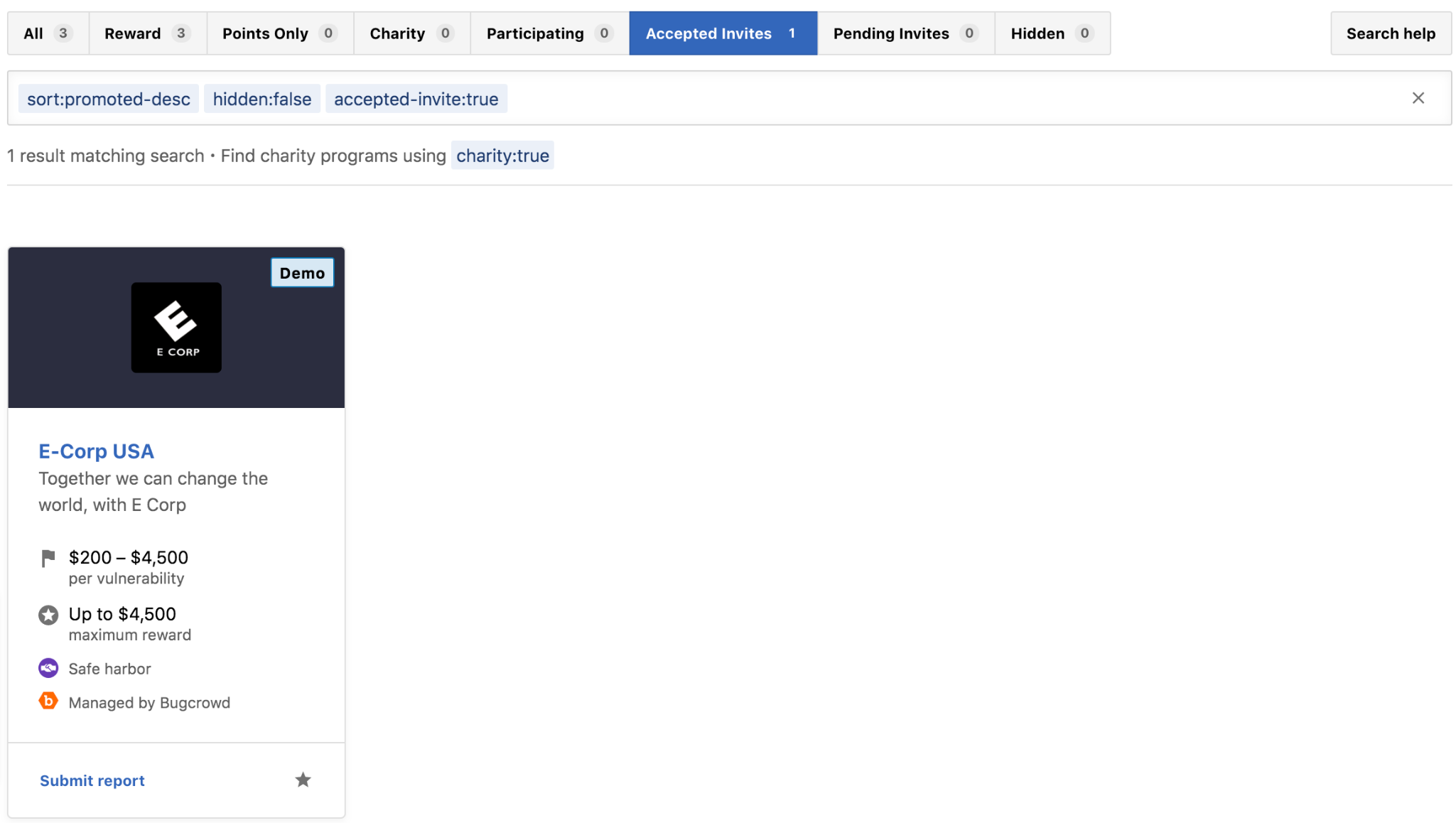 The invitation displays an expiry time based on the program start and invitation timing. For a program that has not yet started, the invitation will expire 8 days from the program launch day. If the program has started, then it is 8 days from when you received your invitation. If the program is paused or rescheduled, the counter will be paused until the program launches or resumes.