An Organization's Accounting section is home to all things financial across Bugcrowd, including:
Transaction history
Depositing into Crowdcontrol
Transferring across programs
Viewing balances across your programs
This functionality is only available for Organization Owners.
To navigate to the Accounting section, after logging into Crowdcontrol, click Accounting.
Viewing Transfer Activity
By default, the Activity page is displayed. You can view all past rewards, with transfer and deposit activity available going forward.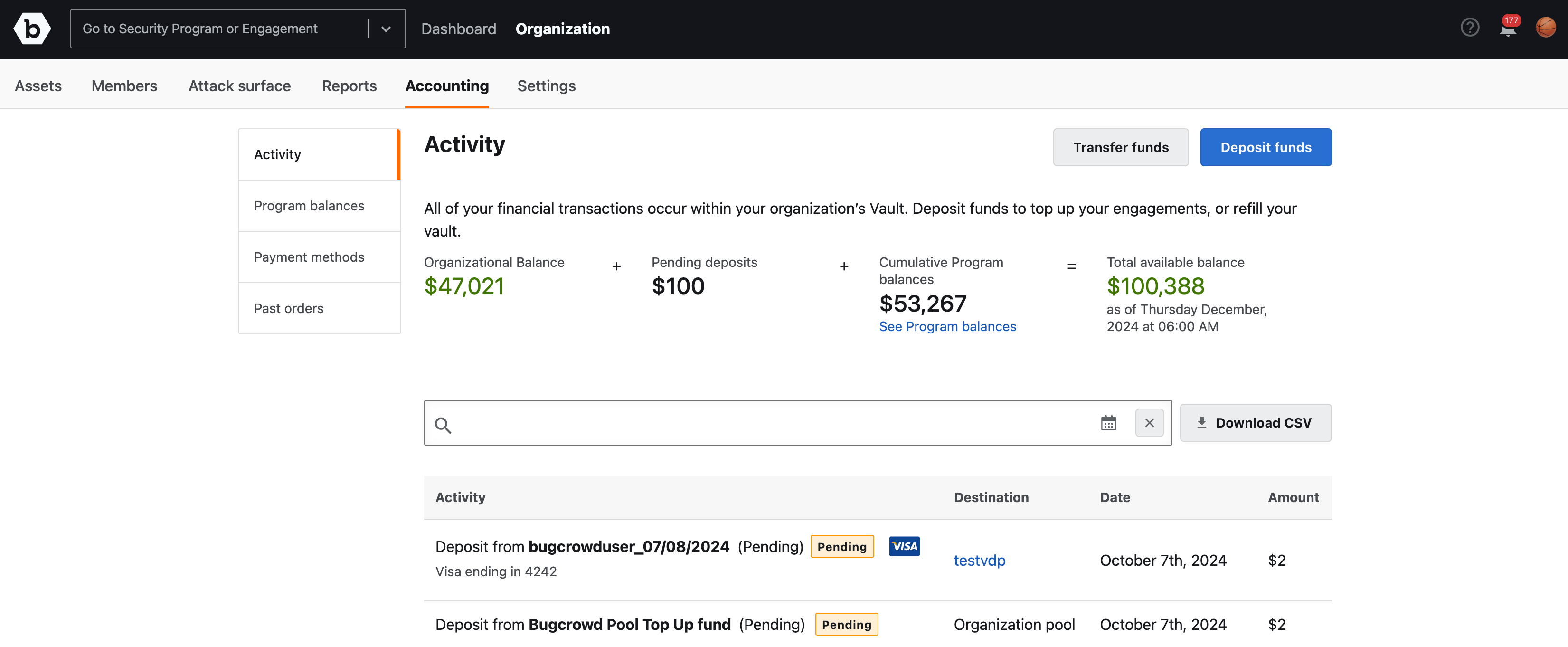 Depositing Funds
To deposit funds into an organization or program reward pool
On the Activity page, click Deposit funds.

The Deposit funds page is displayed.

Specify the following:

Amount: Specify the amount to be deposited in the destination account. There is a 4% surcharge for all deposits using credit/debit card payments.
Destination: Select the destination pool where you want to transfer the funds.
Include purchase order: To include a purchase order, select this option. Your Account Manager will then reach out to provide an Order Form for the requested deposit.
Agree to the Terms and Conditions.

Click Submit deposit request.

The Your deposit has been submitted message is displayed.
Transferring Funds
You can transfer funds only from an Organization Pool. If you'd like to transfer funds from a program, then contact your Account Manager.
On the Activity page, click Transfer funds.

The Transfer Funds page is displayed.

Specify the following:

Transfer source: Select the fund from where you want to transfer funds.
Transfer destination: Select the destination pool to where the funds must be transferred.
Amount: Specify the amount in USD.
Note: Provide a reason for the fund transfer

Click Submit fund transfer.
Viewing Pool Balance
You can view the current balances across programs relative to your organization.
On the Accounting tab, click Program balances on the left-side.

Organization Owners will be informed of a low balance through an email alert.
When your organization's pool balance is low, it is recommended to make a deposit.