Understanding Changelogs
Changelogs are log entries recorded for edits made to an engagement brief. The engagement brief must be published before you can change the engagement status from Draft to Launching or Launch. Any edits made to the engagement brief when the status is in Draft will not be visible to researchers.
Benefits of Changelogs
Changelogs have the following benefits:
Help in maintaining a record of changes made in the engagement brief.
Help resolve miscommunications and disputes that may arise between customers, researchers, and Bugcrowd as changes are made to an engagement brief.
How Changelogs Work
Changelogs are automatically recorded for any edits made to an engagement brief.
For example, if you would like to change the scope of an engagement brief, you can see how the changelogs are recorded, with the following steps:
Go to the Administration tab, and scroll down to the Engagement section.

Click on the three dots in the action column of the engagement that you wish to edit.

Click Edit engagement brief.

Scroll down to the Scope section, and click Edit scope.

On the Target Groups page, click Edit.

Uncheck the check box This target group is In Scope and click Update Group.

Once the changes are saved, you will see a notification for the unpublished brief edits.

Click on Review Changes to navigate to the Changelog page.

On the changelog page, you can do the following:

You can view all of the changes recorded. An Unpublished label is displayed after the title indicating the status of the version.

Click on the Preview tab to preview the changes on the researcher's side.

A slide-out drawer will appear, showing you how the changes will display to the researcher.

Click on the Publish button to publish the changes.

A Confirm publish prompt appears. Click Publish to confirm.

Once the changelog is published, a Latest label is displayed after the changelog version to indicate the most recent version.

When multiple changelog versions are published, you can navigate between each version using the Previous version and Next version buttons.
Note: Any edits made to the engagement brief while its status is Paused are not visible to the researcher. When you change the engagement status to In progress, the changelogs reflect changes or edits you reviewed and published.
Using the Changelog Filters
All the changelog versions are visible in the Changelog page within the engagement brief. You can filter by Date and time, Publisher, and Changes. You can also clear any filters you apply by clicking on Clear all filters.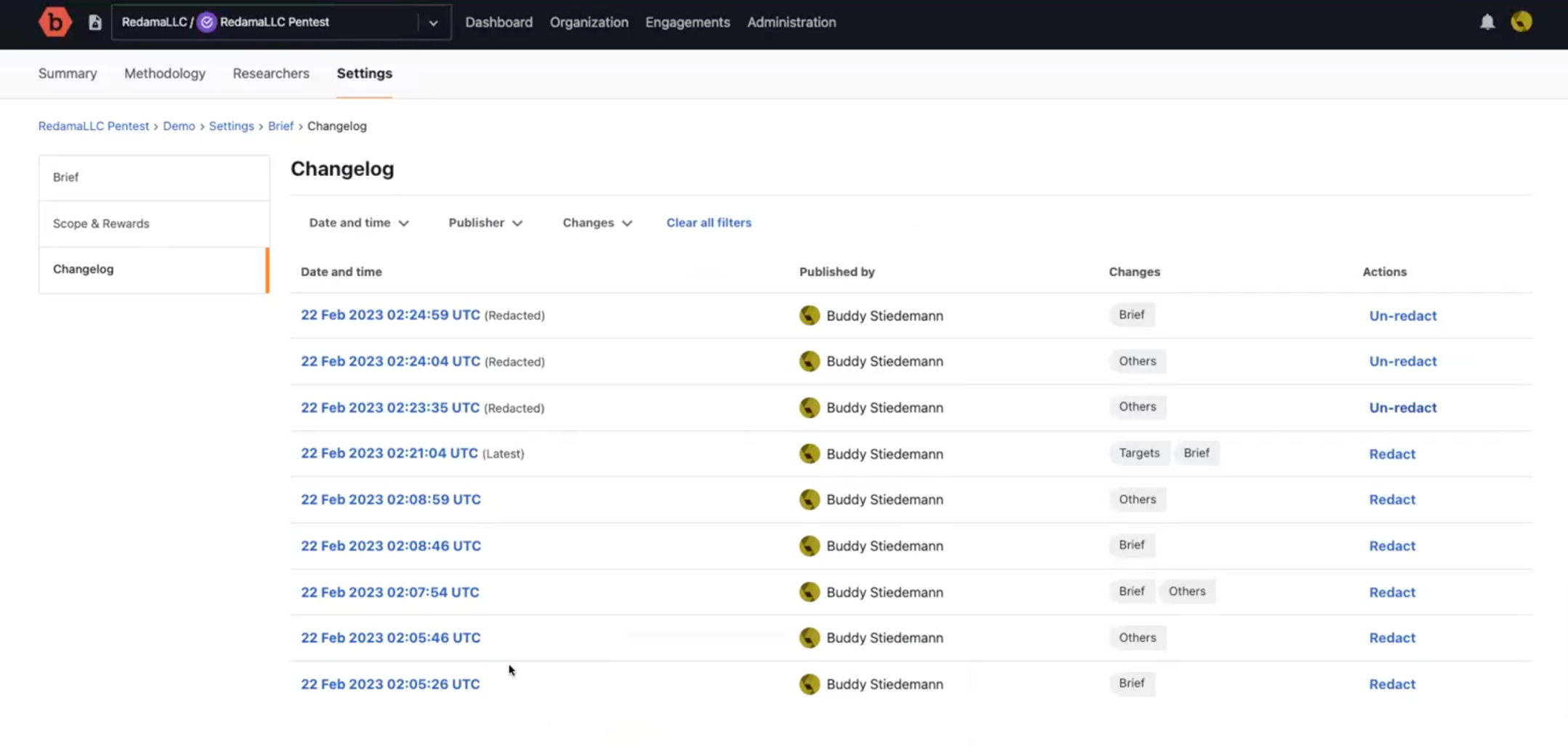 Note: If a changelog has been redacted, a Redacted label is displayed after the changelog version, and the engagement brief will revert to the previous version.